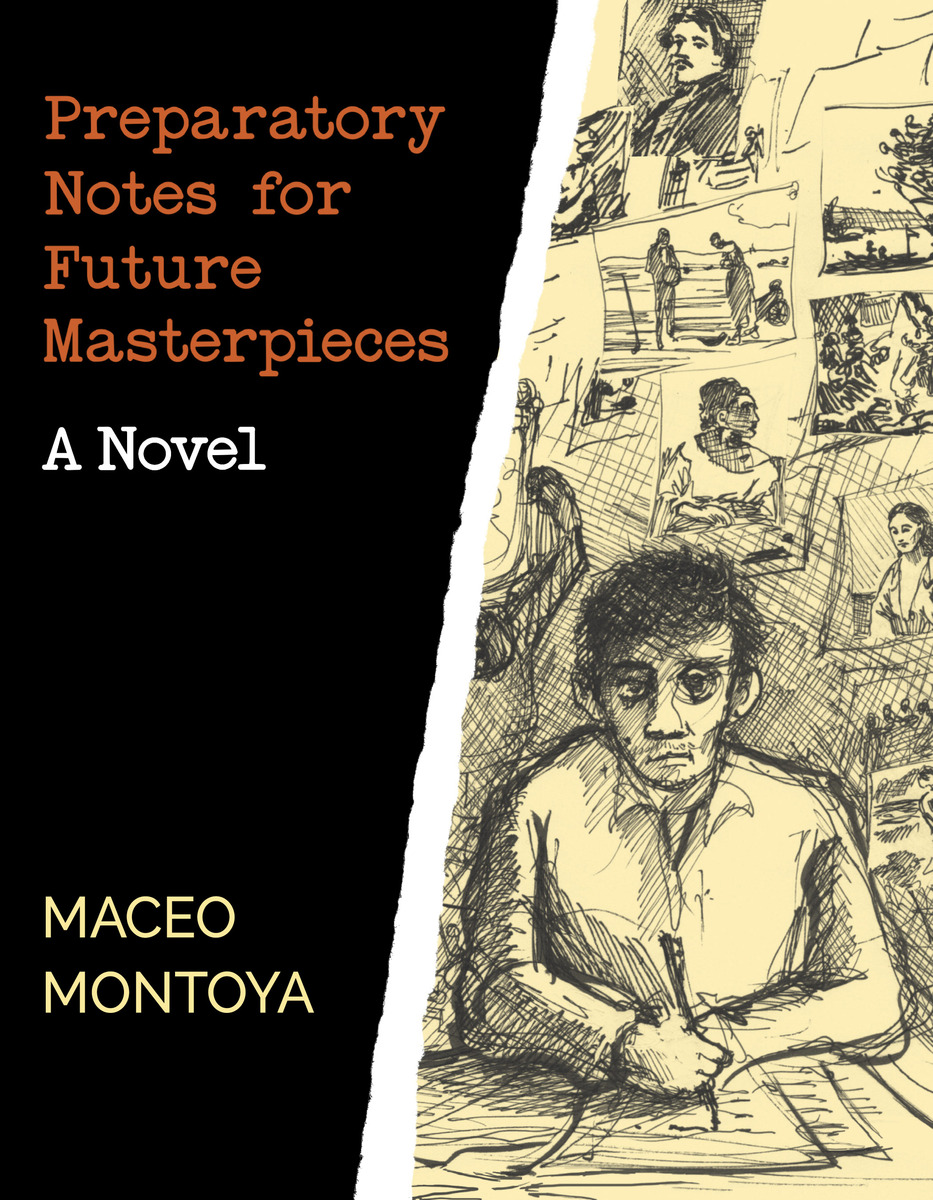 Preparatory Notes for Future MasterpiecesA Novel$30.00
Author:
Maceo Montoya
Format: Paper
Pages: 308
ISBN: 9781647790752
Published Date: 2022
Selected as one of the San Francisco Chronicles' 15 best books of 2021

From critically acclaimed author Maceo Montoya comes an inventive and adventurous satirical novel about a Mexican-American artist's efforts to fulfill his vision: to paint masterful works of art. His plans include a move to Paris to join the ranks of his artistic hero, Gustave Courbet—except it's 1943, and he's stuck in the backwoods of New Mexico. Penniless and prone to epileptic fits, even his mother thinks he's crazy.

Ernie Lobato has just inherited his deceased uncle's manuscript and drawings. At the urging of his colleague, an activist and history buff (Lorraine Rios), Ernie sends the materials to a professor of Chicanx literature (Dr. Samuel Pizarro). Throughout the novel, Dr. Pizarro shares his insights and comments on the uncle's legacy in a series of annotations to his text and illustrations.

As Ernie's uncle battles a world that is unkind to "starving artists," he runs into other tormented twentieth-century artists, writers, and activists with ambitions to match his own: a young itinerant preacher (Reies López Tijerina); the "greatest insane artist" (Martín Ramirez); and Oscar Zeta Acosta who is hellbent on self-destruction. Will the fortuitous encounters with these prophetic figures result in his own genius being recognized? Or will his
uncompromising nature consign him to what he fears most?

Told through a combination of words and images in the tradition of classic works such as Don Quixote and Alice in Wonderland, Preparatory Notes for Future Masterpieces features fifty-one vivid black-and-white pen drawings. This complex and engaging story also doubles as literary criticism, commenting on how outsiders' stories fit into the larger context of the Chicanx literary canon. A unique and multilayered story that embraces both contradiction and possibility, it also sheds new light on the current state of Chicanx literature while, at the same time, contributing to it.

Propulsive, humorous, and full of life, this candid novel will be loved not only by Beat fiction fans but by contemporary fiction lovers as well.
Author Bio
Maceo Montoya is an award-winning author, artist, and educator who has published books in a variety of genres. His books include The Scoundrel and the Optimist (awarded the 2011 International Latino Book Award for "Best First Book" and Latino Stories named him one of its "Top Ten New Latino Writers to Watch), The Deportation of Wopper Barraza, Letters to the Poet from His Brother, You Must Fight Them: A Novella and Stories (finalist for Foreword Review's INDIEFAB Book of the Year Award) among others. Montoya's paintings, drawings, and prints have been featured in exhibitions and publications throughout the country as well as internationally. He is currently a professor in the Chicana/o Studies Department at the University of California, Davis where he teaches courses on Chicanx culture and literature.
Reviews
"Montoya dramatizes the agonies and ecstasies of the creative process, written and visual, with a quiet hilarity and, well, steely-eyed realism. The illustrations feel empowering because they demystify the process of drawing by showing preliminary thumbnail sketches next to fully worked-out drawings. Preparatory Notes for Future Masterpieces, like all of Montoya's books, helps us all to better understand the ways in which Chicanx history is American history."
—Bidisha Banerjee, Los Angeles Review of Books
 
". . . delightful postmodern illustrated novel.... Both entertaining and provocative, this [Preparatory Notes for Future Masterpieces] lampoons with a gentle touch."
—
Publishers Weekly
"Channeling the spirit of Candide, Montoya's use of humor, pathos, and satire to tell the story of a misunderstood artist clamoring for his place in posterity and his voice to be heard, had me laughing from beginning to end." 
 —
Reyna Grande
, author of
The Distance Between Us
"Montoya has found a way to deftly combine his storytelling ability with his artistic prowess in this single body of work that shapeshifts as it reveals. 
Preparatory Notes For Future Masterpieces
 is a compelling, fun, and intriguing read for thinkers, cultural warriors, and lovers of great literature alike. What we are witnessing here is a writer who is quickly reaching the height of his mastery!"
—
Tim Z. Hernandez
, author of 
All They Will Call You
"This graphic novel is a very ambitious and successful contribution to the story of Latinx people in the U.S., with an emphasis on our struggles to make our art in this society ... propulsive, candid, steamy, and full of life."
—
Yxta Maya Murray
, author of 
The World Doesn't Work That Way, but It Could
"From an artistic and critical perspective, Montoya's varied output of art, literature, and criticism has helped further the Chicanx cause. Preparatory Notes for Future Masterpieces is a great example of what a multi-talented artist can do when they are not preoccupied by the constraints of the culture at large. . . . Hopefully this text will make it into the hands of many young writers from marginalized and working-class backgrounds." —Daniel M. Mendoza, Rain Taxi